KK POKER MASTERS – Apolonia Casino Gevgelija, Macedonia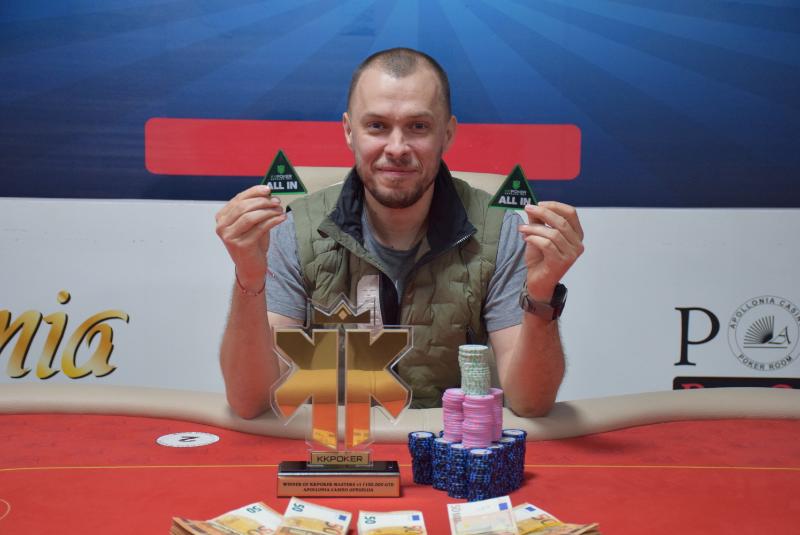 KK POKER MASTERS – Apolonia Casino Gevgelija, Macedonia
The final day begins with good news for the 53 remaining players.
There was a proposal to deduct 900 euros from the first prize and to be given to the first three that will be excluded, but players did not agree. Apollonia casino decided to 'give away' 3 tickets to the first 3 excluded for today's €120 Mystery Bounty!
The final table:
The Prizes:
1: €25.740
2: €15.070
3: €9.855
4: €7.770
5: €6.145
6: €4.175
7: €3.305
8: €2.550
9: €2.085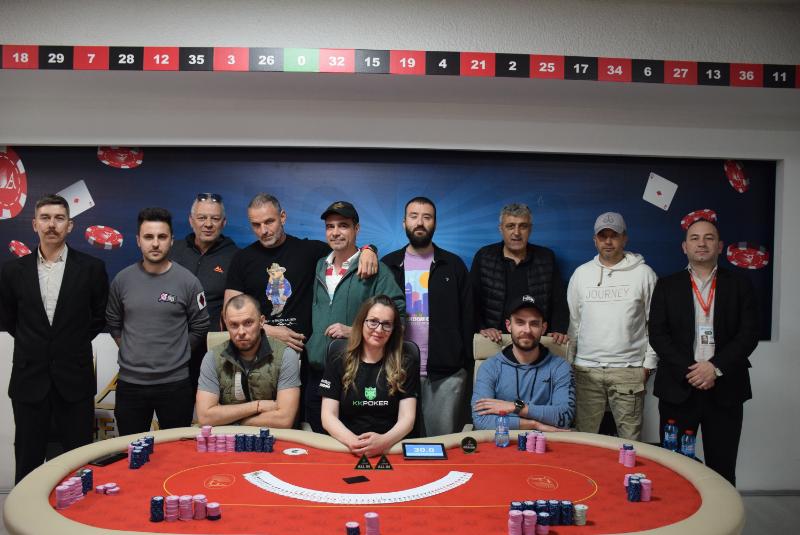 In 9th place Sokratis Papavramidis wins €2,085
In a battle of the blinds, Papavramidis put in his few bbs with 10-J, Paraskevaidis immediately called with A-Q and the Greek 'civil' came out victorious for the second one.
In the photo together with his good friend Thanos Lappas, they gave the promise of… great things in the near future.
Level 30, blinds 50,000/100,000, ante 100,000
In 8th place, Giorgos Anthopoulos wins €2,550
Mini raise by Smola from utg + 1, call by Manchev, from cutoff and Maksimovic in sb, all-in for 380k by Giorgos Anthopoulos in bb with K-5.
Call the remaining three and on the flop, check Maksimovic and Smola, bet for 250k by Manchev who kicked them out and showed K-J.
Level 30, blinds 50,000/100,000, ante 100,000
In 7th place Dimitris Paraskevaidis wins €3,305
The final table is now without a Greek player after the elimination of Paraskevaidis.
Level 31, blinds 60,000/120,000, ante 120,000
In 6th place Aleksandar Atzev wins €4,175
Huge trick for Smola who is now the chip leader.
Level 32, blinds 100,000/250,000, ante 250,000
In 5th place Franciz Manchev wins €6,145
Тwo levels passed without elimination and finally one of the two Bulgarians left from the table.
After losing a crucial all-in preflop with A-J off suit against compatriot Tsonev's eights he was left with a few blinds and re-raised himself.
This time with A-3 again against eights, with Tsonev completing a flop frame!
Level 32, blinds 100,000/250,000, ante 250,000
In 4th place Vasko Markoski wins €7,770
Mini raise to 500,000 from the button by Maksimovic, defending call by Markoski on the bb and K-5-7 rainbow on the flop.
Markoski checked, Maksimovic all-in with aces, snap call with K-8 by his opponent who didn't find help on the turn and river.
Level 32, blinds 100,000/250,000, ante 250,000
Damjan Smola, in 3rd place, wins €9,855
There is a discussion about a deal between the Bulgarian Simeon Tsonev and the Serbian Dejan Maksimovic.
Simeon Tsonev triumph for 21,000 euros, Dejan Maksimovic second for 19,000 euros!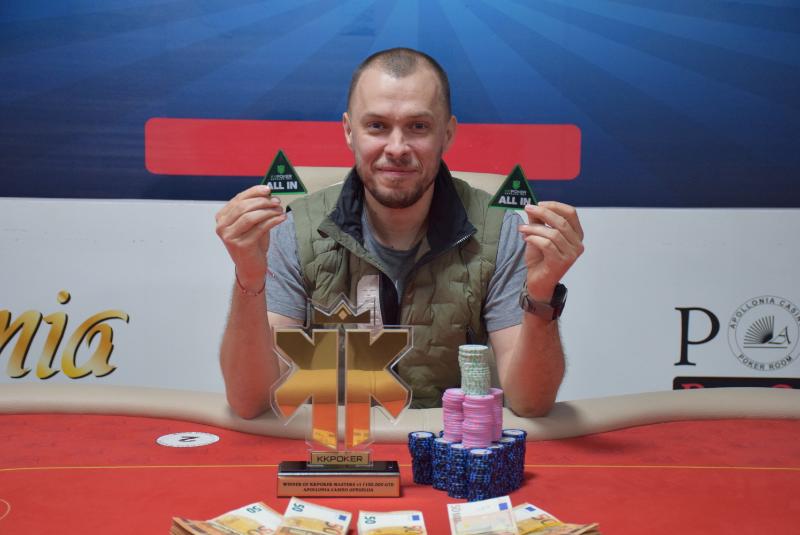 With the exclusion of the Polish, the two heads-up finalists quickly proceeded to an ICM deal and played a 'hand' with open cards for the trophy!
It was Bulgaria's Simeon Tsonev who secured the €21,000 prize and the coveted trophy KKPoker Masters trophy!
It is worth noting that during the day he was left with only one blind before he wrote his own golden story.
Source: Apolonia Casino